Hurd Field
This park is on the opposite side of the minuteman trail from Trader Joes and Walgreens. It is also connected to the Reservoir Park. Mill Creek flows between these two parks and flows along their shared border. There is a parking lot for the park located off of Drake Road, which in turn is connected to Massachusetts Ave. You can also walk to the park from the Reservoir. There is a path that crosses a bridge over Mill Creek and brings you to the back of the ballfield.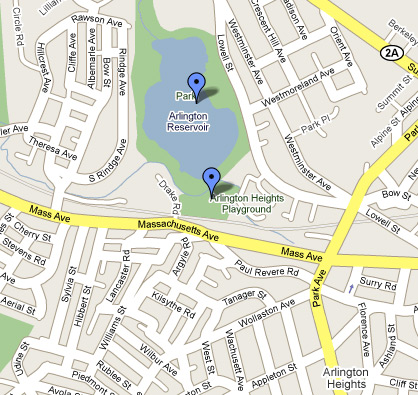 ---
This park is a busy place, playing host to soccer and softball games throughout the spring, summer and fall. The field is utilized in a number of different ways. Adult softball games take place on the main ballfield/diamond, using the entire field. Both baseball diamonds can be used if there are games being held between smaller children. The field can also serve to host a single soccer game or if there are small children, two soccer games simultaneously. Practices for single or many teams, either softball or soccer, are another general use for the field.
The large baseball diamond has a large backstop, benches for both teams and a small bleacher area. The other diamond has a backstop and benches but no bleachers. The town leaves movable soccer goals at the park all summer. There is usually a decent foul line maintained on the main baseball diamond.
The usual rules apply, as they do with all the ballfields in Arlington: The ballfield is open for public use although any use of the field by an organized group must be granted approval by the town of Arlington.
Rules/Regulations
hours - 5 am to 9 pm
permits can be obtained by calling 781-316-3880
use of the field is prohibited during foul weather or when the field is soft or muddy
no alcohol allowed on the park property
One of the nice features of this park are its lights. This means the park can be used for an extended period of time in the spring and fall.
Hurd Field Photos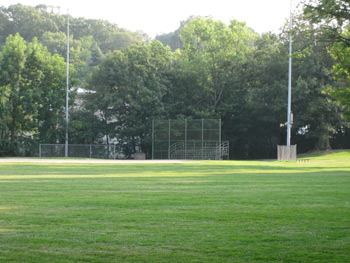 The main field at Hurd Field is used for adult and teenage softball games.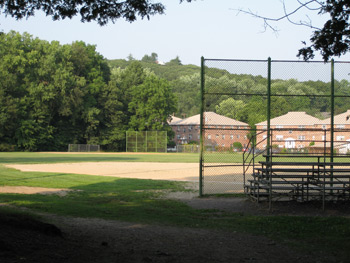 Looking out from behind the plate of the main baseball diamond, with the second diamond visible at the back of center field.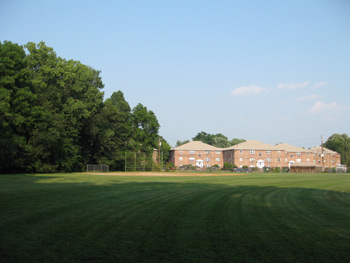 A view of the second baseball diamond. Both fields are used when small children are using the fields.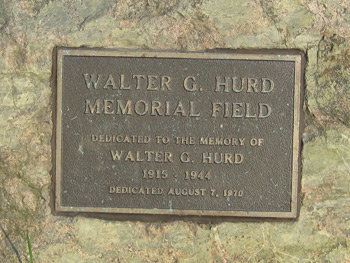 The park is named after Walter G. Hurd, as stated in this plaque that is found near the main baseball diamond.
For a list of all the parks in town please visit the town website.